Do skincare anti-aging supplements work?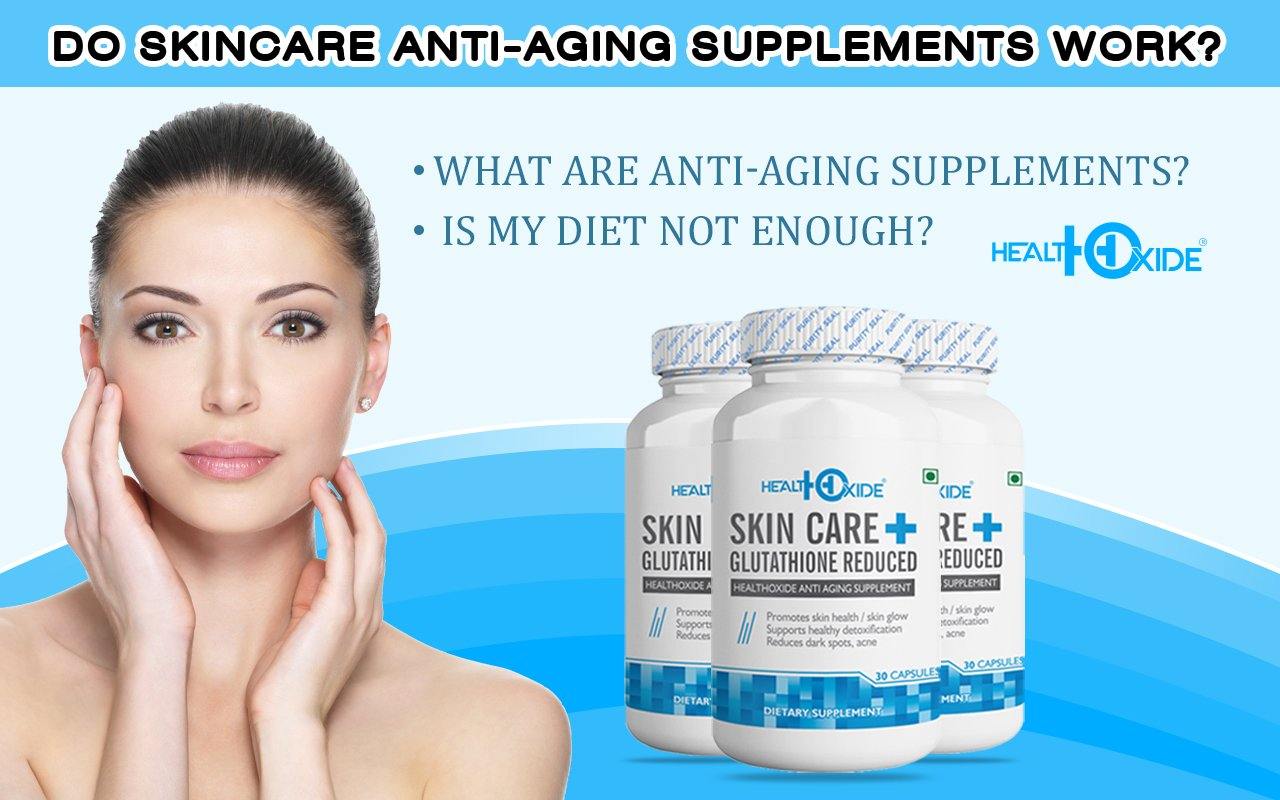 Healthoxide store .
Feb 03, 2021
Introduction
What if only we could restore our youth by just popping pills? While aging is inevitable, we can attempt to slow down skin aging is to adopt a healthy lifestyle that includes exercise, good food that includes products that provide the body with its needs. This is where anti-aging supplements for women come in. Using anti-aging supplements will not make you look like you are 19, but it will make your skin glow, look young, and keep it healthy.
Read more about anti-aging supplements below.
What are anti-aging supplements?
 Anti-aging supplements are also known as nutri-cosmetics that improve the overall appearance of the skin. They are available in the forms of capsules, tonics, or elixirs. Their consumption has been on the rise, but the concept of skincare supplements has existed for centuries. Earlier, people would drink herbal teas and use a paste made of natural ingredients for healthy skin. In today's world, these are available as supplements following the advanced concepts. They usually comprise antioxidants, vitamins, glutathione, collagen, etc., that make the skin glow and delay skin aging.
Is my diet not enough?
 Diet plays a vital role in maintaining healthy skin. However, it is hard to eat the same balanced meal for a very long time. If you follow a healthy diet and take the right mix of supplements, all your skin issues will be taken care of, leaving no scope to complain about youthful looks.
Just taking supplements may not help, and therefore diet and a fitness routine go hand in hand to attain glowing, youthful skin.
Symptoms of aging skin
 There are many reasons for skin aging, one prevalent being age, and that is inevitable. However, the other factors responsible for the skin's premature aging are diet, pollution, lifestyle, and other habits.
For example, let's talk about smoking. It speeds up the aging process as it produces free radicals, which damage the cells, causing wrinkles at an earlier age.
Not using sunscreen while stepping out also leads to spots and wrinkles. It is called photoaging.
Common symptoms of skin aging
Skin appears rough.
Wrinkles on the skin.
Skin loses its firmness.
Skin appears thinner.
Skin gets bruised easily.
This is where anti-aging skin supplements play a vital role. 
Some of the most common ingredients of anti-aging skin supplements are as follows.
Glutathione
Your liver can produce this naturally, but sometimes a deficiency can show its effects on your skin. The antioxidant is available in the form of powders, capsules, or sprays. As an ingredient in a skin supplement, it brightens, benefits the skin in multiple ways, and improves your immunity.
Vitamin C
Vitamin C is responsible for your body's immunity, as it is a storehouse of antioxidants that not only boosts immunity but also has magical effects on your skin. It is one of the best anti-aging vitamins for the skin. Vitamin C prevents the skin's premature aging, removes blemishes, brightens the skin, makes your skin look younger while fighting against the free radicals and damage caused by pollutants and UV radiation.
Biotin
One of the crucial but hidden nutrients responsible for healthy skin is biotin. Biotin is another name for Vitamin B7, which promotes healthy hair, skin, and nails. It keeps up the skin's mucous membranes and increases the metabolism rate of fat that helps in healthy skin.
Vitamin E
The benefits of this nutrient for skin and health are innumerable. Vitamin E makes the skin glow and look younger. It is very rich in antioxidants that helps in making the skin firm and delays wrinkles. Health Oxide Skincare Plus – Anti- Aging Supplements comprises Vitamin E that improves the skin's overall health.
Experts say that Vitamin E is one of the most vital anti-aging vitamins for the skin. It is a storehouse of antioxidants and reduces enzyme damages by protecting the cell membranes.
How do the Supplements work?
 It is suggested that supplements be consumed for a prolonged period for visible results. Even though these improve the skin, it doesn't mean it will show results overnight.
 The Health Oxide Skincare Plus Anti-aging supplements help to slow down the aging process. It contains Glutathione and Vitamin C that promotes a healthy life while offering multiple skin benefits. 
 Along with supplements and vitamin-rich products, following a healthy diet can positively affect skin quality. 
 The few things that must be a part of your diet are as follows-
Fish - Fish is rich in Omega 3 fatty acids that keep the skin moisturized, prevents dryness, and makes the skin look younger.
Green Tea - Green tea is very rich in antioxidants and polyphenols that keep the skin firm and maintain its elasticity. It also minimizes the harmful effects of the Sun on the skin.
Kale and green leafy veggies - Kale is one of the best greens for the skin. It is famous for its rich in carotenoid lutein that reduces the damage caused by free radicals and pollutants.
Carrots - Rich in Vitamins, it benefits both the skin and the eye.
Water - Drink enough water during the day. What you eat reflects on your skin. The healthier foods you consume, the better your skin will be. Drink a minimum of eight glasses of water every day for glowing skin.
If you are someone who follows a healthy diet regimen and knows all the anti-aging secrets that will add more youthful years to your life, all you need is the Health Oxide Skincare Plus Supplement with Glutathione and Vitamin C. The supplement's ingredients help detoxify the skin, make it appear youthful, delay premature aging, and rejuvenate the skin. It is one of the best-selling anti-aging supplements for men and women.
 As it is rich in Vitamin C, it protects, repairs, and regenerates the tissues. Not just the skin, it also benefits your body by reducing the risk of certain conditions while delaying the skin aging process. It also boosts collagen production naturally.
 Remember, before you add supplements to your routine, it is best to take professional advice. Some supplements do not suit people suffering from lifestyle diseases that require regular medications.