10 days fat burner: how to burn your fat in 10 days?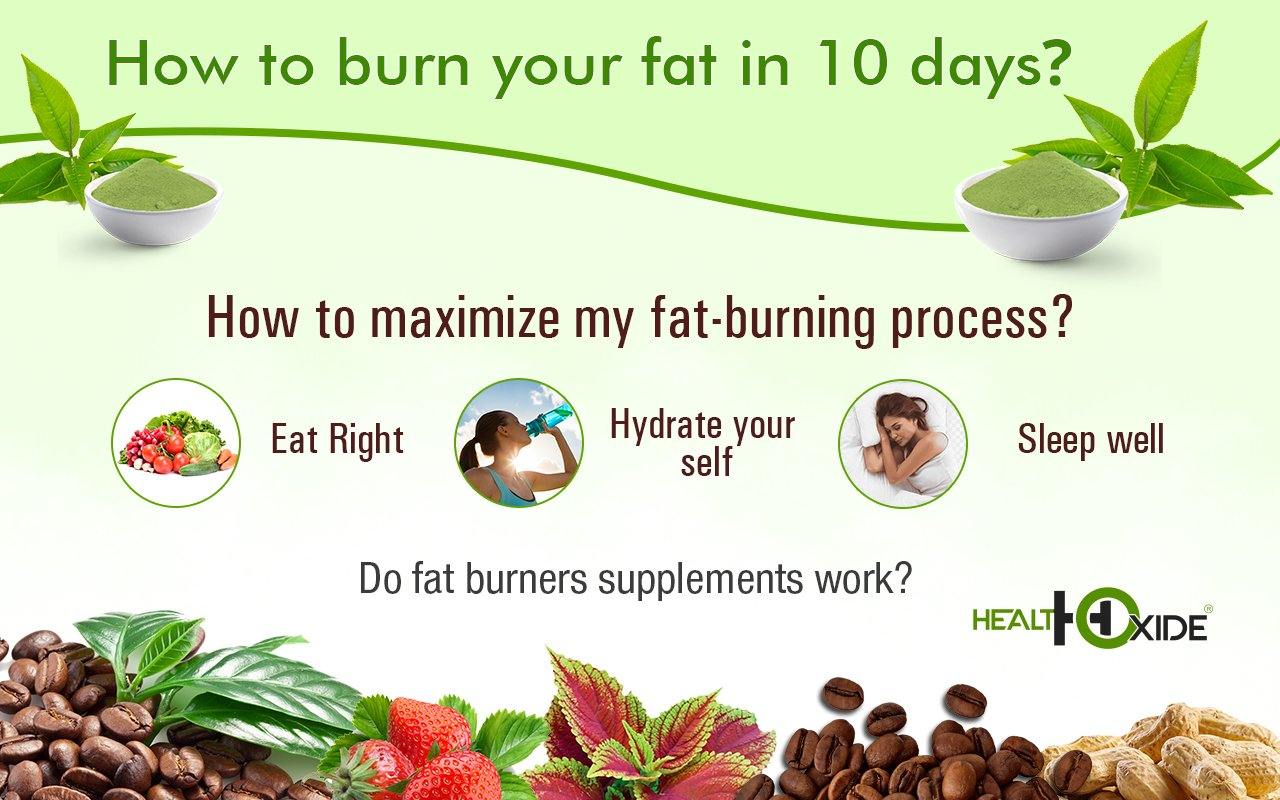 Healthoxide store .
Mar 30, 2021
You must have heard of fat burners, right? For those of you who haven't read much here is an article to help you understand these supplements better. Well, fat burners are supplements that work to help you loose the extra fat from your body. However, keep in mind that fat burners are supplements, and thus you need to follow a diet and exercise to make the most from these supplements to gain muscles and loose fat. 
There are several types of fat burners available in the market. While some work on burning your fat, others aim to enhance your which in turn gets better results from exercise. Apart from this, some fat burners claim to boost your energy as well. 
However, before you purchase fat burner supplements, make sure you know some facts about them. Having limited knowledge regarding these can waste a lot of your money and cause side effects. 
This article is a guide to the basics of fat burner supplements. 
Do fat burners supplements work?
First and foremost, you need to understand the difference between fat burners and other supplements. Many products give results by reducing fat present in your body, but they also decrease your appetite and there are others which may work for others and not for you.
However, the best supplements oxidize your fat level, and to achieve that, you need to eat and workout regularly. While different brands claim varying concentrations of fat-burning ingredients, some contain the essential, natural, and top fat-burning ingredients like,
Caffeine:Caffeine is one of the best fat burners that work like magic. Many fat burners contain caffeine that helps boost your metabolic rate, thereby aiding the process of burning fat.
Green tea:Commonly found in most fat burner supplements, green tea holds loads of caffeine. Also, green tea contains polyphenol epigallocatechin gallate(EGCD) that contributes to burning fat effectively. Furthermore, it helps to combat obesity as well.
Protein:Supplements are just another form of protein. A high protein proper diet burns a tremendous amount of fat and calories naturally. By boosting your metabolism rate, protein can help you gain muscle along with burning fat. 
Are fat burners safe?
Yes. While Fat burners are safe, it also depends on the product you choose. There are articles online stating people have experienced mild headaches, nausea, and anxiety-consuming fat burners. If looked at closely, many of these symptoms may be associated with the mix of ingredients that these products have.
What are the ingredients that make the best fat burners supplements?
The best fat burner supplements available in the market usually rely on 6 main ingredients. You will spot these ingredients in an ideal fat-burning supplement.
Caffeine: It helps you burn body fat by boosting your metabolism
Green tea extract: It is a stimulant that burns fat along with calories
L-Theanine: It reduces appetite and stress
L-Tyrosine: It enhances thermogenesis
Forskolin: It is mainly for men. This ingredient promotes lean body muscle and testosterone level
5-HTP: It stops the urge of over-eating and works on managing hunger mechanisms.
Most supplements contain protein and caffeine as it is natural and does no harm.
How to maximize my fat-burning process?
There are several ways you can maximize the process of fat burning. Along with taking supplements, following some of these steps may help you gain immense benefits and positive results. 
Eat right: By eating right, we mean managing protein intake. While you burn fat on one side, you would never want to look thin. Make sure you don't lose much of your muscle. If you don't consume enough protein, your body starts eating away your muscles to provide you energy. By giving your body the right amount of fat burner protein, you can achieve those lean muscles of your dreams. 
Hydrate yourself:Fat burners make you sweat more. A massive amount of sweat can decrease your bodys' water levels leading to dehydration. It will further slow down your metabolism and you might feel fatigued. To combat this, make sure you drink lots of water. A regular person is recommended an intake of 2l of water each day. If you are working out and taking fat burner supplements, make sure you increase your water intake. 
Sleep well:Getting the right amount of sleep is equally important. Your brain and body need rest to reset and give you the energy you want. For effective results, avoid taking coffee, soft drinks, and stimulants that consist of caffeine after 6 pm. Loss of sleep might lead to fatigue. More fatigue impacts your food choice, making you weak day by day. 
How to know if your fat burner is working? 
Fat burner powder does take time to show effective results. Keep patience and give yourself 2 to 3 weeks. Meanwhile, make sure you consume the fat burners regularly. 
Suppose you follow a strict balanced diet and workout routine and are consuming fat burner supplements. In that case, you will start experiencing significant weight and fat loss with and increase in lean muscles. 
However, if you feel you are not gaining effective results, you can try other fat burners as all supplements do not work the same for everyone.
Burn fat in 10 days!
Do you wish to burn fat in 10 days? Health oxide ten days fat burner promises to deliver fantastic results. It is proven to show effective results within 10 days. 
If you are a beginner and want to lose weight, this is what you need! The 10 days fat burner is vegetarian and consists of herbal ingredients. It has zero binders and artificial ingredients. Additionally, it guards your body against harmful toxins! 
Free from preservatives and unwanted impurities, the 10 days fat burner is the perfect product for effective fat burn and muscle gain. 
The best part, this product is more than just a supplement. It provides you with improved focus and appetite control, and controls your urge to consume high-carb food.