Are Mass Gainer better than food for bulking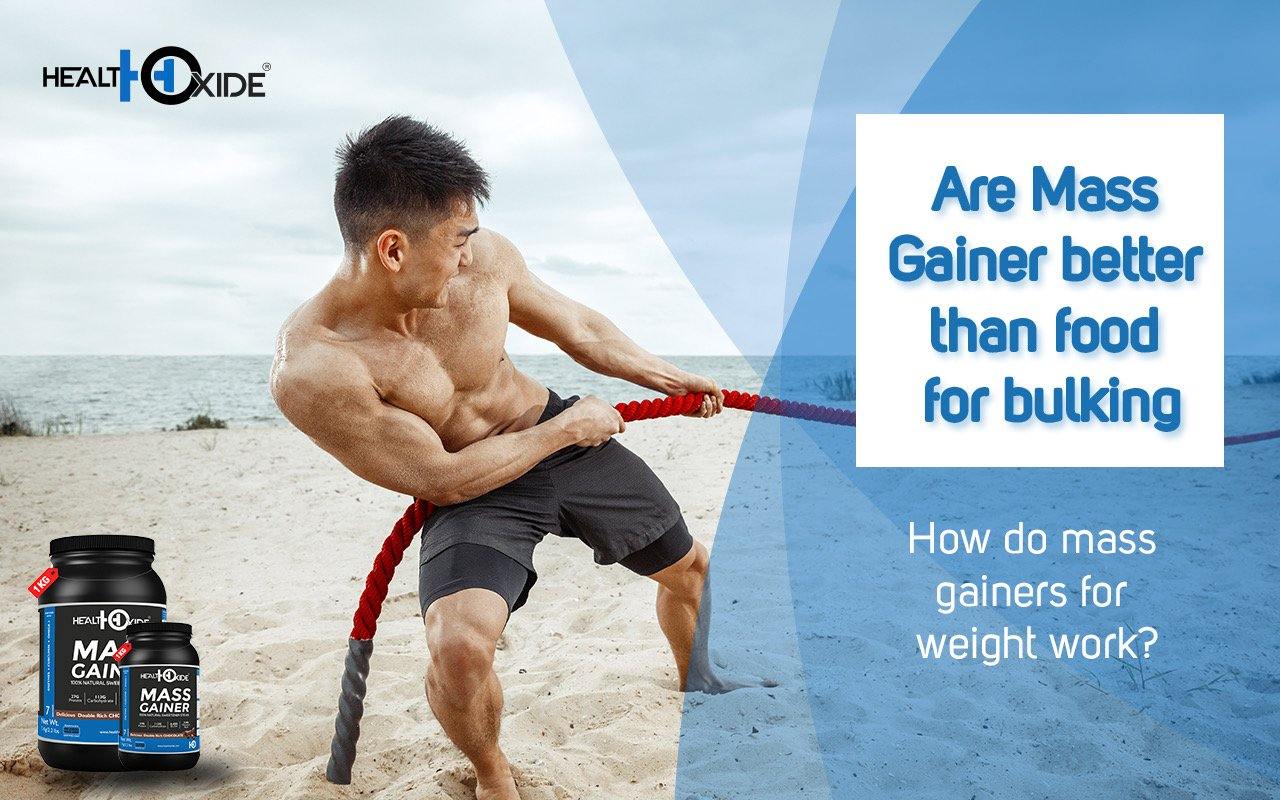 Healthoxide store .
Oct 21, 2020
 Introduction 
If you are new to exercise, weight training, or muscle building, you will have read up a lot on products that help build the right physique or body shape. Most people take up exercise to lose weight, stay fit, and stay in shape, while on the other hand, there are people whose aim is to gain weight. People who have a high metabolism or do not consume enough calories find it hard to gain weight. Surveys show that Mass gainers and weight gainer products are most preferred and top-rated amongst this crowd who want to add weight or bulk up.
What are mass gainers? 
In the world of bodybuilding and weight training, mass gainer protein powders are very popular. It is a dietary supplement and can easily be sourced and is also one of the most popular powders available in the market. Many bodybuilders and gym trainers recommend this as a supplement. They are rich in calories and have a high amount of fat, minerals, carbohydrates, amino acids, and vitamins. The powder works by increasing the calorie level in the body that boosts muscle gain. A mass gainer supplement will have less protein and have an increased percentage of carbohydrates and fats that are required to add bulk and assist in muscle buildup. 
One serving of this shake quickly provides 300 to 1200 calories. 
What is a weight gainer product?
Weight gainers are recommended for people who struggle to gain weight irrespective of a healthy diet. A person who has a high metabolism should opt for a weight gain supplement powder that increases calorie intake and helps the body reach a steady burning point before beginning the workout.
 Foods you must eat to gain steady weight.
Milk 
Milk is rich in protein, calcium, carbs, and fat, which aid in muscle building and weight gain. If you are working on your muscle, drinking milk every day will give your body the required protein source in whey protein and casein. You can have milk with a pre-workout meal or as a snack after a workout or before training, as suggested by your dietitian, nutritionist, or doctor. 
Protein smoothies
Protein smoothies can be made at home. They are among the ways to add calories and gain weight in a healthy manner. Some variations to make delicious smoothies would be:-
Apple and yogurt milkshake with vanilla essence for flavor, Banana, nuts, and Health Oxide Mass weight gain powder.
Nuts
A handful of nuts in your diet or nut butter on bread toast as part of breakfast or evening snack is an ideal weight gain food. They are rich in calories, and eating them daily, will give the body a calorie boost, which is essential for weight gain.
Red Meat
If you're looking at gaining body mass, red meat might do it for you. It provides your body with the amino acids that the body needs to revive the process of protein synthesis and add to muscle growth. To gain mass weight quickly, opt for meat with fat, as the fattier cuts contain more calories compared to leaner meats.
Potatoes
One of the most affordable, popular, and loved-by-all foods to gain weight is potatoes. Team it up with some starchy carbs like quinoa, corn, wheat, oats, beans, etc and You have an unbeatable weight gain source.
Foods like potatoes boost muscle glycogen, which acts as a resource to create energy for work-out or demanding sports. These foods rich in carbohydrates also comprise vital nutrients and fiber that promote the growth of good bacteria in the body. 
How do mass gainers for weight work?
If you are looking at building mass weight, your food must be rich in calories. We often eat without calculating our calories and end up having a calorie deficit diet that doesn't support mass building. 
Mass gainer protein shakes are rich in calories, and sometimes you may end up consuming more than required, but it all leads to a healthy weight gain. It provides enormous calories with every scoop, that maintains a balance in the body. It would help if you had more calories than you are burning. One added advantage of mass gainer protein shakes is that you consume more calories but don't feel too full, leaving the space for you to finish another one sooner.
Things to check
Always check the sugar content
Always opt for a brand with a minimum sugar content
If it constitutes more sugar, it might lead to weight gain, but it won't add to muscle, but add more fat. These mass gainer protein powder usually have a high sugar content to modify the taste of different flavors. Always proceed with awareness before buying a mass gainer. 
Protein
An excellent mass weight gainer will comprise protein that is rich in amino acids. For those looking at a mass gainer protein powder, you must ensure it contains high-quality protein. 
And lastly, read the ingredients thoroughly. Buy a weight gainer powder with a balance of protein, sugar, wholesome carbs, and necessary vitamins and nutrients. Be wise while you make a choice.
Things to avoid while gaining weight 
Insufficient Cardiovascular exercise 
It is a misconception that you need to stop doing cardiovascular exercises if you are trying to gain weight. It is necessary to continue with cardio exercises for a healthy heart. Those keen on weight gain should restrict cardiovascular exercise timings. Best to ask your trainer or nutritionist. 
Dieting
Diet plays a vital role in weight gain but dieting as in eating less or restricting food intake is to be avoided. Eat high-calorie food. Also, ensure that you correspondingly eat vegetables even if they are low in calories as they provide you with the required vitamins, carbohydrates and fibre .
Do not give up
Patience and consistency are the key when working on your body and trying to gain weight. You should be determined to see the results. The growth rate differs for everyone, and what may seem achievable for someone in a short period may take longer for you. 
HealthOXide Mass Weight Gainer powder is among the best-selling weight gain powder in the market. It contains only 5 g sugar per serving and leads to steady muscle gain. It is made of organic whey that helps to build muscles and increases muscle mass. It is enriched with necessary vitamins and nutrients that keep the body energized and support intense workouts by reducing fatigue in the body.