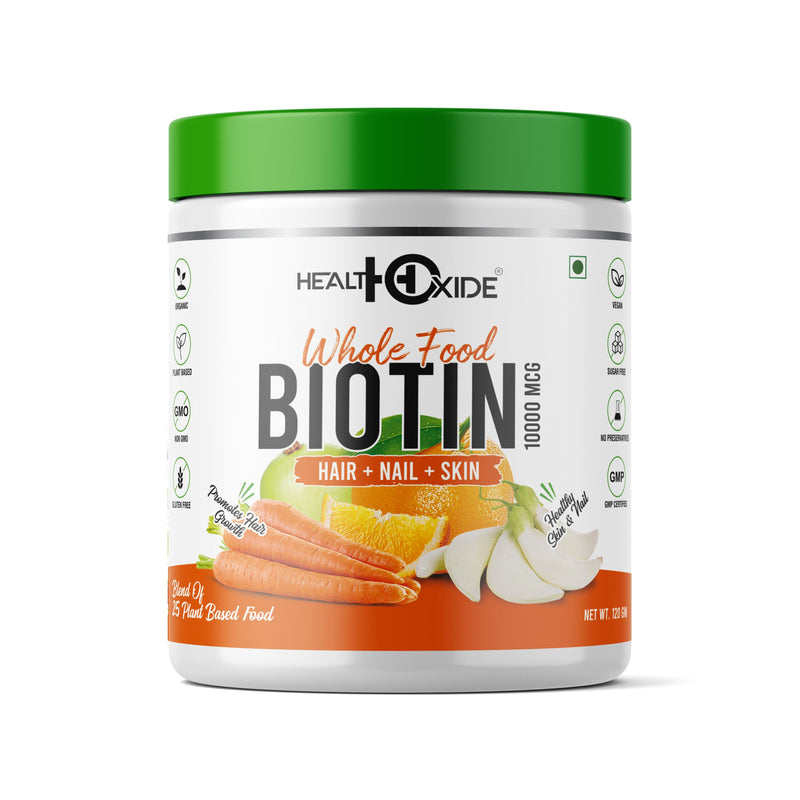 Healthoxide Whole Food Biotin for Healthy Hair, Nail, Skin,120g
Healthoxide whole food Biotin contains Omega 7 Natural Source, Sesbania, as well as many Vitamin C, sourced powders such as Orange Peel Extract, Lemon Fruit Powder, Carrot Fruit Powder, and Amla Fruit Powder.
In addition to enhancing energy metabolism, this vegetarian and gluten-free supplement is known for improving the strength of your hair and promoting healthy, glowing skin.
STRENGTHENS BONES & JOINTS: Boost your strength and give your bones and joints flexibility with a supplement that reduces the risk of bone fractures.
Suitable For Everyone Who Is 18+ Healthoxide whole food Biotin for hair growth can be consumed by anyone between 18 and 65, irrespective of gender. If you have an existing medical condition, you should consult your physician before taking it.
• With each serving, you fill in the nutritional gaps in your daily diet to support healthy living.
Healthoxide Whole Food Biotin has Amla Filled With Vitamin C Hair Growth, Bamboo Extract Rich in Silica Rejuvenates Skin, Sesbania Extract 
Hign In Biotin Reduces Wrinkles, 
Pomegranate Contains Antioxidants and Anti-aging.
Incredibly Effective Product. I'm Overwhelmed With The Reaction. Thanks Healthoxide For Providing Such An Effective Product.
We usually do not get enough biotin in our daily diets, so you can take this supplement to get enough of it for your hair, nails, and skin if you are looking for long, healthy hair, nails, and skin. You can feel the difference in the quality of your hairs as you have been using it and love the flavor. It is original and really healthy. I have used it for a while and love it.
As a Biotin user I have to say this is an outstanding product. There are a lot of biotin supplements on the market and it is easy to get confused, but look no further. This is the best Biotin on the market and my hair fall has definitely stopped.
It was my search to find a biotin that had a good taste. This one was perfect. As a result of using this product for 2 months, my hairfall has decreased significantly. I suggest you try it atleast once if you suffer from hair loss.
My desire to have healthy hair and body was met here, the taste is good, a bit tangy, like an energy drink, refreshing.
Makes Hair Strong
An organic whole food biotin powder made from sesbania extracts to strengthen healthy hair growth, prevent hair loss and strengthen hair follicles.
Improving glowing skin
Biotin is beneficial for the skin since it is an antioxidant that promotes glowing skin. It also protects the skin from dark spots, dryness, acne, and wrinkle.
Brittle nails
The nails can be strengthened by regular use of biotin..
Healthoxide Whole Fodd Biotin
Why Healthoxide Biotin?
It is also known as Vitamin H or B7 and is a water-soluble vitamin that is involved in a wide variety of metabolic processes, primarily in the breakdown of fats, carbohydrates, and amino acids. Water-soluble vitamins cannot be stored in the body, so daily intake is necessary to avoid deficiencies. Deficiency of Biotin may lead to hair thinning, skin irritations, brittle nails, and hair loss.
Trusted By Thousands Customers
Recommended Usage
Add 1 scoop (8g) of HealthOxide whole food biotin into 150 to 200 ml water. Stir well & enjoy.
SUGAR FREE
GLUTEN FREE
PRESERVATIVES FREE
100% VEGAN