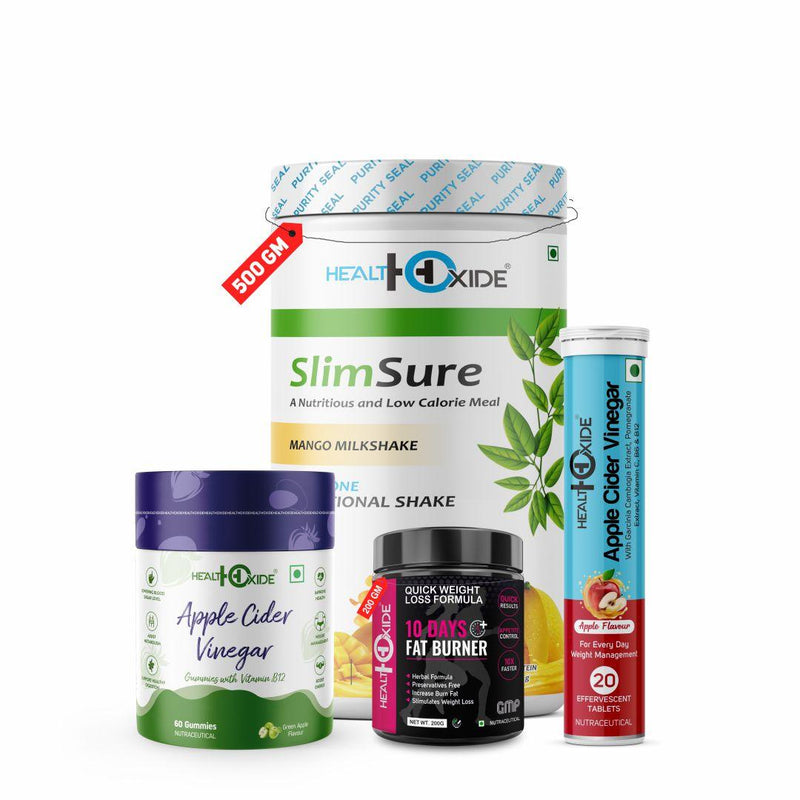 Power Pairs Weightloss Combo- ACV Gummies+ ACV Effervescent Tablet+ 10 Days Fat Burner+ Slimsure
Apple cider vinegar gummies to lose weight faster and healthier by reducing their calorie intake and curbing their appetites.
Healthoxide ACV Effervescent tablets are packed with B-Vitamins such as B6 and B12 to boost metabolism, improve gut health, reduce bloating (often associated with PMS), and increase energy.
10 Days fat burner, has proven to be a loss supplement in 10 days. It is a great way to start your weight loss goals.
Healthoxide SlimSure Provides 26 vitamins & minerals. 7.5 g dietary fiber and 39 g protein in every 100 g which offers better nutrition than a regular meal.
Our gummies have been created by typical nutrition. Healthoxide contains a dash of ACV, which is a wonder tonic for your body, with magnesium, iron, phosphorus, manganese, amino acids, antioxidants, and so much more. Taking these fun, green apple-flavored ACV gummies daily will help you stay healthy and fit by providing you with a wide range of essential nutrients.
By using apple cider vinegar, you can control weight, detox and cleanse your body, reduce inflammation, curb hunger pangs, maintain metabolism, improve gut health and digestion, and improve digestion and gut health.
10 Days fat burner provides benefits to lose weight naturally without any side effects. Also, it is helpful for instant results only in 10 days. It is made up of 100% natural ingredients and is free from preservatives and any kind of unwanted impurities. A well-designed combination helps to improve weight loss performance.
HealthOxide SlimSure is the latest weight management formula from Nutricore. This advanced formula combines the highest quality whey protein and soy protein isolate with scientifically tested fat loss ingredients also SlimSure is an All-in-1 formula that also delivers a balance of weight loss ingredients like Garoma Cambogia, L-Carnitine, Green tea extract, etc.