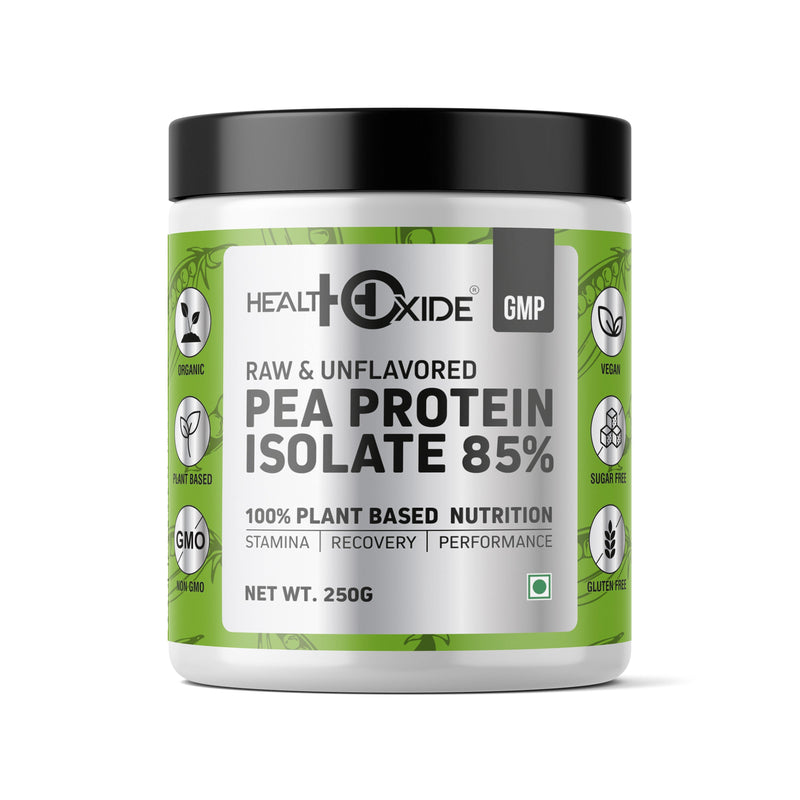 Pea Protein Isolate 85% - Unflavoured, – 250g
Healthoxide Pea Protein is pure and natural, unflavoured, and mixes easily into your favourite beverages. Pea Protein Shake: Delicious Shake, Amino Acids, Dietary Fiber, BCAA's, No Trans Fat
Low Calorie: Plant Based Protein for vegans, vegetarians, low carb dieters, children and athletes
Cholesterol Free, Easy to Digest, Gluten Free, Soy Free, Non-GMO, Lactose Free
Whether you are a busy professional, parent, athlete or student, these are great for busy lifestyles, meal replacement, on-the-go meals and post workouts
promotes Health, Energy, and Wellness by delivering key plant nutrients that are often missing in our diets
High-Quality Protein Source
This protein contains all nine essential amino acids that your body cannot produce, but it contains a relatively low amount of methionine compared to other proteins. Besides being loaded with branched-chain amino acids, it is also loaded with arginine, which promotes heart health, leucine, isoleucine, and valine, which promote muscle growth.
Rich in iron
You can get a healthy amount of this essential nutrient from pea protein.
Works With Many Special Diet
A natural vegan, gluten-free and dairy-free protein powder, pea protein powder is free of peanuts, tree nuts, eggs, fish, shellfish, cow's milk, wheat, and soy, the top eight food allergens.
Builds Muscle Mass
The benefits of pea protein powder are the same as those of more common dairy-based protein powders for increasing muscle mass.
Good for Heart and kidney Health
A study found that pea protein lowers cholesterol and blood pressure while having a gentle effect on the kidneys. This protein may even prevent kidney issues in the future.
• Promotes Appetite Control and Helps with Weight Loss
Increasing metabolism and burning calories is one of the benefits of pea protein.
Healthoxide Raw Pea Protein Isolate
Details of Raw Pea Protein Isolate
Our body does not make all essential amino acids required for healthy growth; therefore they must be obtained through diet. Among all the various vegetable protein, pea is the most complete protein. Healthoxide pure raw pea protein isolate is primary a pea protein isolate 85% powder which contains all the essential amino acids in exactly the right balanced manner to meet body's nutritional needs.
Trusted By Thousands Customers
Recommended Usage
Add 1 scoop (30g) of Healthoxide pure raw pea protein isolate. Add in to water, fat free milk Or other suitable beverage of choice. Add flavor drop as required to make it delicious.
Shake well and consume it.
ASPARTAME FREE
NON GMO
GLUTEN FREE
SUGAR FREE