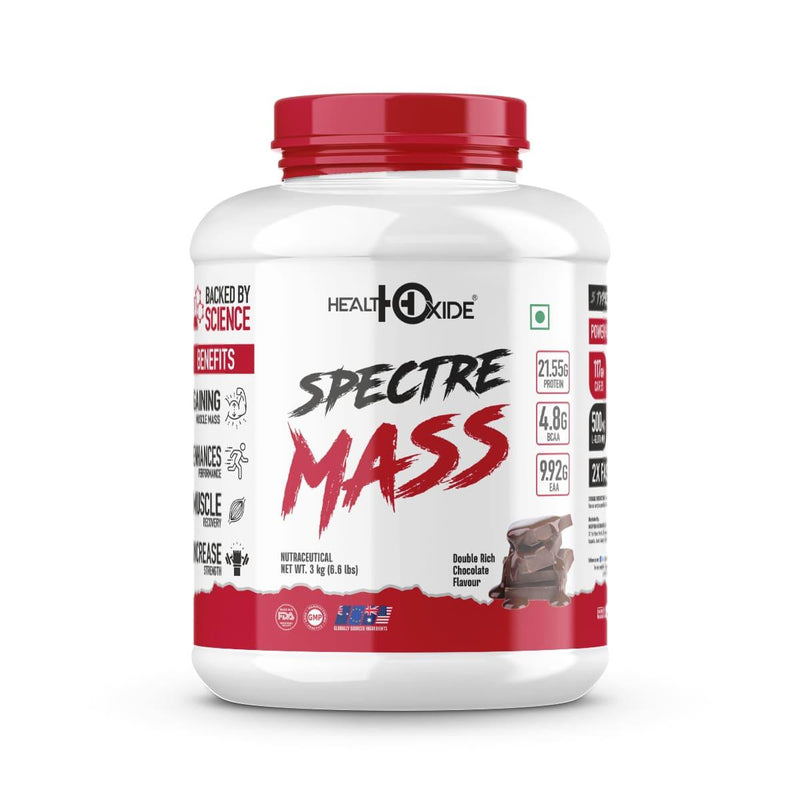 Healthoxide Spectre Mass (21.55g protein) Powder, Gaining Muscle Mass, Muscle Recovery, Double Rich Chocolate (3kg)
Promote bulking:- Bulking requires people to consume more calories a day through diet. Consuming such high amounts through diet means eating enormous portions after every 2 hours. Mass gainers are best used with a regular diet, and just one or two serves are enough to speed up bulk and gain muscle mass.
Exuberant in calories:- The main reason people use mass gainers is to increase their daily calorie intake. Generally, mass gainers provide 599.2 calories per serving to meet daily calorie requirements with mass gainers. There are a wide variety of calories in weight gainers, so be sure to choose the right one for you.
A blend Blend of minerals & vitamins:- To boost your health naturally, gainers are enriched with vitamins, minerals, and antioxidants. Bulking up does not mean loading up on unhealthy calories.
Support digestion:- Enhanced muscle gains are achieved through increased nutrient delivery to the muscle cells due to enzymes that aid digestion and absorption.
Good for recovery:- In addition to helping muscles recover and grow, mass gainers also promote fat loss. L-glutamine, a particular amino acid that plays an important role in a speedy recovery, has been shown to play a large role if you aren't taking in the right amount of calories.
Details of Healthoxide Spectre Mass
Healthoxide Spectre Mass is a well-designed mass gainer for those who find it difficult to gain muscles and gain weight. Healthoxide Spectre Mass combination is packed with 100% ORGANIC Grass-Fed Whey Protein which is free from added hormones, antibiotics, or any kind of unwanted impurities. A well-designed combination of whey proteins with intact peptides, low glycemic index carbohydrates, dietary fibers, digestive enzymes, and vitamins helps to support peak muscle gain and performance.
What does the product do
Gaining Muscle Mass
Muscle Recovery
Increase Strenght
Enhances performance
Direction To Use
Take 2 scoop (150g) of HealthOxide Spectre Mass Protein into 400 to 600 ml water, Fat free milk or add 1-2 banana for good taste & Result.
Shake well & consume.
LAB TESTED
NON GMO
GLUTEN FREE
SUGAR FREE