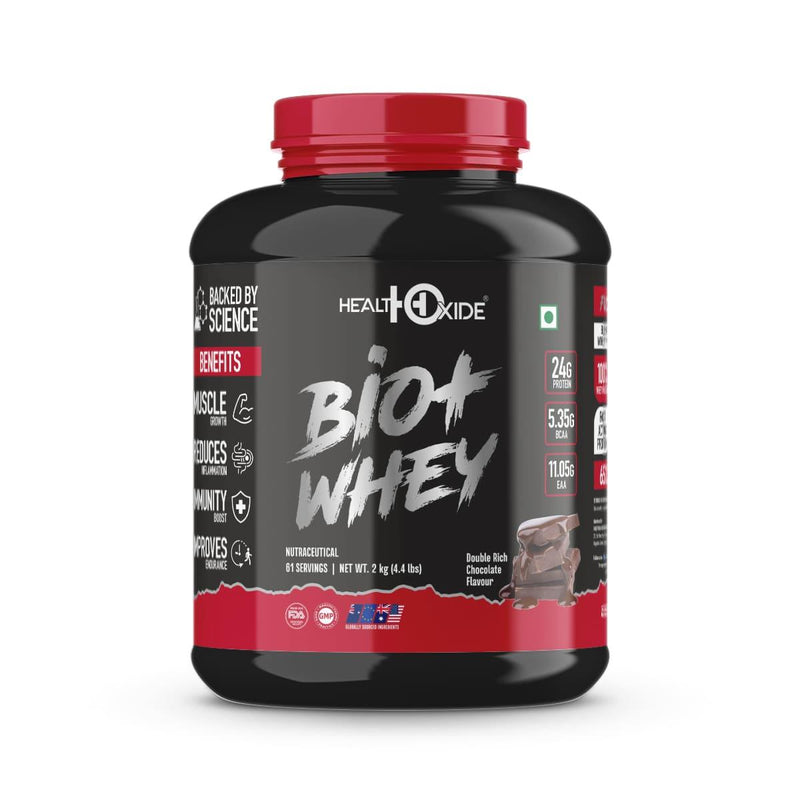 Healthoxide Bio + Whey (24G Protein) Powder, Muscle Growth, Immunity Boost, Reduce Inflammation, Double Rich Chocolate (2kg)
24 grams of Bio+Whey per serving with whey protein isolates.
Zero added Sugar. Made through 100% organic grass-Fed cow whey protein. Non- GMO and free from banned substances.
Gives stamina, boosts energy, absolute muscle recovery, and enhanced digestion with enzymes. Comes with delicious taste, excellent solubility, and micro granular particle size.
Bio+Whey are is a fusion of 3 Whey: BLEND OF WHEY PROTEIN CONCENTRATE, WHEY PROTEIN ISOLATE, and WHEY HYDROLYSATE.
Details of Healthoxide Bio + Whey
This perfect blend of the finest quality Whey protein concentrates (WPC). Whey protein isolates (WPI) and Whey Hydrolysate along with a refreshing taste provide 24 grams of protein per serving. We have designed this blend to ensure a RAPID UPTAKE of amino acids into your blood- stream. HEALTHOXIDE Whey blend has a substantial amount of NATURALLY OCCURRING BCAA, Glutamine, and essential and nonessential amino acids that are optimum for fulfilling your daily protein requirements. The whey blend is INSTANTISED. It means that is easily soluble in water with the help of a spoon or stirrer in the absence of a shaker or blender.
What does the product do
Muscle Growth
Immunity Boost
Improve Endurance
Ruduce Inflammation
Direction To Use
Add 1 scoop (33g) of HealthOxide Bio+Whey Protein into 180 to 200 ml water, Fat free milk or other suitable beverage of choice.
Shake well & consume.
LAB TESTED
NON GMO
GLUTEN FREE
SUGAR FREE